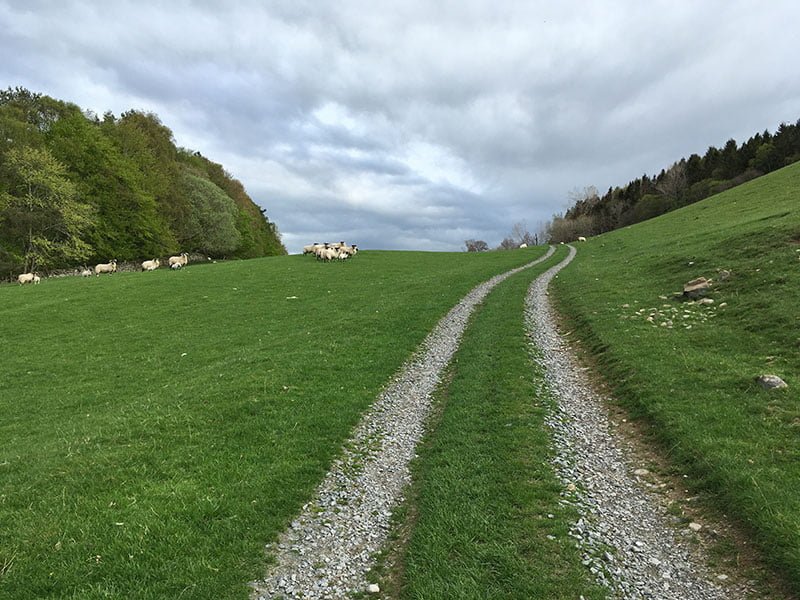 Walk & Talk
What is Walk & Talk?
Pretty much what it sounds like! Counselling in East Lothian (near Edinburgh) while walking together outside. Normally we'll be walking side by side, but we may use benches, or sit on the ground too. We'll walk at a speed that suits you; as the client, you can set the pace.
Counselling sessions offer a secure, confidential space for you to open up about what's troubling you. What you need from those 50 minutes can change over time and is different for different people. You get the opportunity to talk to someone who's not involved in the issues that you're finding difficult, which has (at least) two benefits:
You'll probably feel more able to be honest about what you think and feel, because you don't need to worry how I'll take it, which can be a great relief
Because I'm removed from your situation, I can view it objectively, so may have insights that you or others close to you don't, which can help you see things differently.
As I hear your story I'll be able to help you to understand how your experiences have influenced your current behaviours, thoughts and feelings. You might think 'there's nothing wrong with my life' but – I guarantee – there will have been events in your life that have had an impact on you. Gaining more understanding of yourself can shift your perspective from feeling there's something wrong with you, which not only helps you feel better, but can create space to trust your instincts to find your own way forward – 'promoting change' as we say in the therapy world.

Is walk-and-talk just counselling, but outside?
Yes and no. You have the same freedom to talk about the things that are troubling you as you would sitting in a therapy room or having a session on Zoom. But there are some key elements that working outside brings.
Counselling indoors is 'contained' and to a great extent we have control over the environment. Allowing ourselves to be impacted by the world around us can sometimes interrupt the flow, but it can also bring an additional richness to the work that becomes part of the healing process.
I want you to be able to get some of your emotional needs met in our sessions, especially if you're someone who finds it difficult to put your needs first. It may be that the best way of meeting those needs is to give you space, in between talking about potentially challenging or painful topics, to be soothed by the sights and sounds around you, and for us to connect by sharing a love of birds / flowers / shells / anything else that we may come across.
Being outside in nature can have a beneficial effect on your mental health as well as on your physical health, as a recent study found (reported in the Guardian: Two-hour 'dose' of nature significantly boosts health ). With walk-and-talk therapy we can harness this relaxing quality of nature, integrating it into the counselling process.
There is also some evidence that being in nature can stimulate healing and boost the immune system. Being surrounded by the sights, sounds and spaces of the natural world can increase our ability to relax which can aid the counselling process. Some clients have told me that the open space around them makes it easier to speak about traumatic experiences – almost as if those memories have a bit more space to dissipate rather than being crowded around them.
In my therapeutic work I often focus on the inner child, the parts of you that may not often get the chance to be heard. Being outside and encountering nature has the potential to reach and soothe these vulnerable parts. My own experience is that deepening my connection with nature has a restorative effect, both physically and mentally, and I really value being able to offer this experience by taking counselling outside.

Why WALK and talk?
The act of walking – the gentle physical activity – can be useful to stimulate the brain to work in a slightly different way and can even encourage us not to think so hard, so that things may float to the surface that don't get a chance otherwise.
Walking is exercise:
Physical activity has a beneficial effect on mental health, with studies showing that it can reduce symptoms of depression and anxiety, by boosting endorphins and allowing dissipation of stress hormones. While there's lots of evidence to say that getting exercise can help with depression, when you are in that black hole it can be an achievement just getting out of bed, let alone going out for a run. Gentle therapeutic walking may be a helpful stepping stone for you.
Talking while walking is familiar:
Some people find the idea of talking while walking less daunting than sitting face to face in the more traditional therapy setting. After all, it can feel more a part of normal life. Have you noticed that sometimes difficult conversations are easier to start if you bring it up while you're in a car with the other person? Sometimes being able to look ahead rather than be drawn into close eye contact can help you open up.
You might like to read my blog about the benefits of walking for mental health: Walk yourself happier: 7 ways in which walking can help your mental health.

How do I know if walk-and-talk is for me?
There's only one way to find out… give it a try, and then decide.
We'll walk at a pace that suits you and allows you space to talk and reflect, and we may use benches to pause at or rest, if this seems helpful. If you use a wheelchair, or have mobility difficulties, we can still work outside. I have a route that uses hard pavements that is suitable for a wheelchair, and there are also benches available.
However, the area where I work is quite exposed to the weather which may be a consideration if we're not moving to keep warm. I have had clients who have decided that outdoor sessions aren't for them as the wind and cold have been a distraction.
You remain the focus of the session but, given that we aren't isolated from our surroundings, the environment may subtly (and sometimes not so subtly!) influence our work together. There is, of course, less opportunity to control the environment with therapy outdoors, as we don't have the boundaries of four walls and may be interrupted by people, animals or events. This doesn't mean that the therapeutic benefits of it are less, simply that it is a different experience. You may decide that you need the additional sense of containment of being in a room, or you may value a feeling of freedom in being outside.
Walking counselling could be a good option for you if you spend a lot of time indoors, or if your work requires you to sit down and not move very much, as it has the added benefit of getting you gently moving outside – particularly if you worry that you're not getting enough exercise. My aim is to make counselling as accessible and normal as possible, and I believe that this is one way to do it.
Am I fit enough?
As mentioned already, you can set the pace to one that is comfortable for you. If you don't get much exercise day-to-day, walking for 50 minutes might sound like a lot. Could this be an opportunity to fit a little exercise into your life? Our agreement does require you to sign to say that you don't have an existing health condition that could mean that walking counselling isn't suitable, but otherwise you've nothing to lose by giving it a try!
I tailor routes to use good paths to suit your mobility needs, and they are accessible by public transport.
You will need to make sure that you are wearing sufficiently warm clothing and shoes that are suitable for walking. Some routes may be wet or muddy at certain times of year, but we can use alternative routes that are more urban or use hard paths if necessary. While I agree with the idea that 'there's no such thing as bad weather, only the wrong clothing', I am of course flexible with regard to rearranging if the weather is terrible, and I feel it would interfere with the therapeutic benefits. I'm also willing at any time to switch to an online session if you decide that's what you prefer.

Walk and talk – the practical stuff
Once you get in touch, I'll send you a brief form, to find out why you've decided to seek counselling, which will help us both in deciding whether I've got the skills and experience to help you. If not, I can assist you to find a suitable counsellor. I'll also ask you to complete an access form to check that walking counselling is appropriate. If you prefer we can have a phone chat for me to get some information, instead of form-filling.
If we decide to proceed, we will agree when to have a first appointment. We'll then complete an agreement form before our first session, which asks for some contact information and confirms administrative and practical details of the relationship. You can of course take as much time as you need to read over the forms and ask any questions you need to.
You can read more about the practicalities in my blog What happens in therapy.
Fees
Find out about my fees here.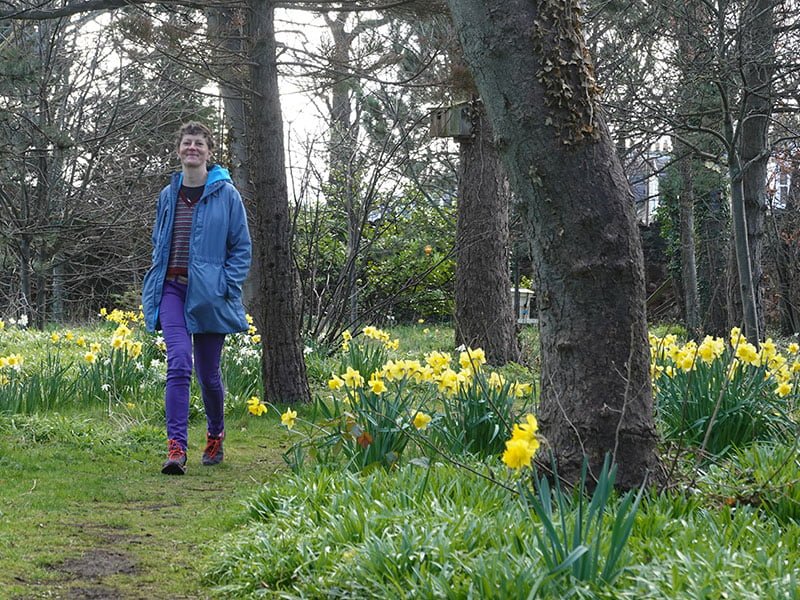 Book a session
I have sessions available from next week, so please get in touch to find out more.
Newsletter
Get hints and tips to help with your self care, and be the first to know when I've got a new blog out. I won't spam you – newsletters come out once a month or less, and you can unsubscribe at any time.
---
Counselling really can change your life – here's how it changed mine
---
Talking can really help. It seems like magic – but there is scientific evidence for it.