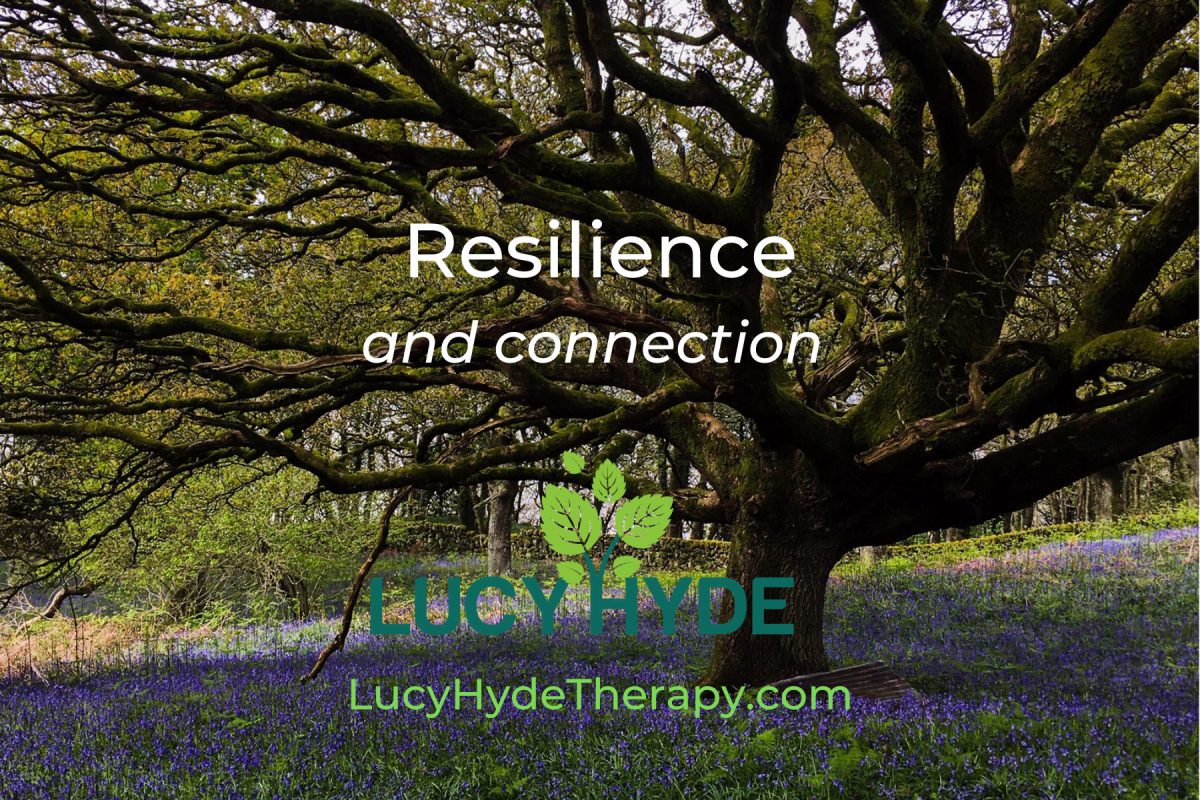 I was recently asked by a 10-year-old if she could interview me to "learn about my resilience strategies" for a school project.
Which of course made me wonder what my 'resilience strategies' are – what do I do when 'something challenges me'?
What is needed for resilience?
I guess when I feel challenged I go to my Focusing practice; I try and check in with myself what's bothering me, and to listen with compassion to the part of me that's feeling overwhelmed. By doing so I remind myself that it's not all of me – i.e. that I can (usually) hold the part that's feeling challenged and recognise that I am, as a whole, OK, in this moment. It's not always easy, depending on the degree of challenge, or the level of emotional intensity – and it's something that I'm able to do in those moments only because I've been practising this way of paying attention to my inner experience for a long time.
AND sometimes it just feels too difficult to do.
So – what other things help my resilience?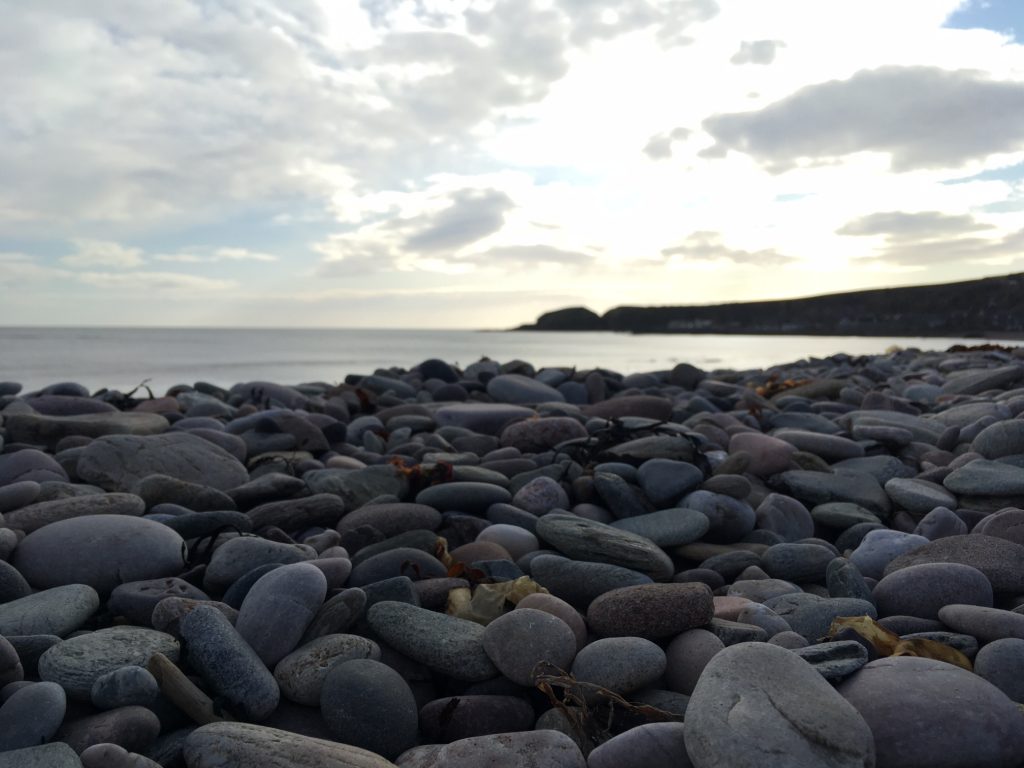 If something is going on which is generating frantic thinking or a feeling that I have to do something, I go for a walk outside – it probably needs to be an hour or more (although anything is better than nothing, right?) because although there's something about the physical rhythm that helps shift how I'm feeling/thinking, it doesn't happen straight away.
With time the greater, physical rhythm of my whole body begins to interrupt the hamster-wheel frantic speeded-up-ness of my thoughts. Almost always, the pattern of my thinking calms and sometimes I come back home feeling that things have clarified, or that I have a new way forward.
Walking anywhere can have this effect, but my preference is to be somewhere in nature. I'm lucky to live and work close to the country and sea, so nature is easily accessible to me, but if I'm in a city then getting to some green space, a park or under trees is great too. Connecting to the wider world – i.e. not just a human-created landscape – helps me to bring myself into the moment and to bring my attention to being OK in this moment.
Reflecting on all of this made me think about connection and its role in our emotional or mental resilience.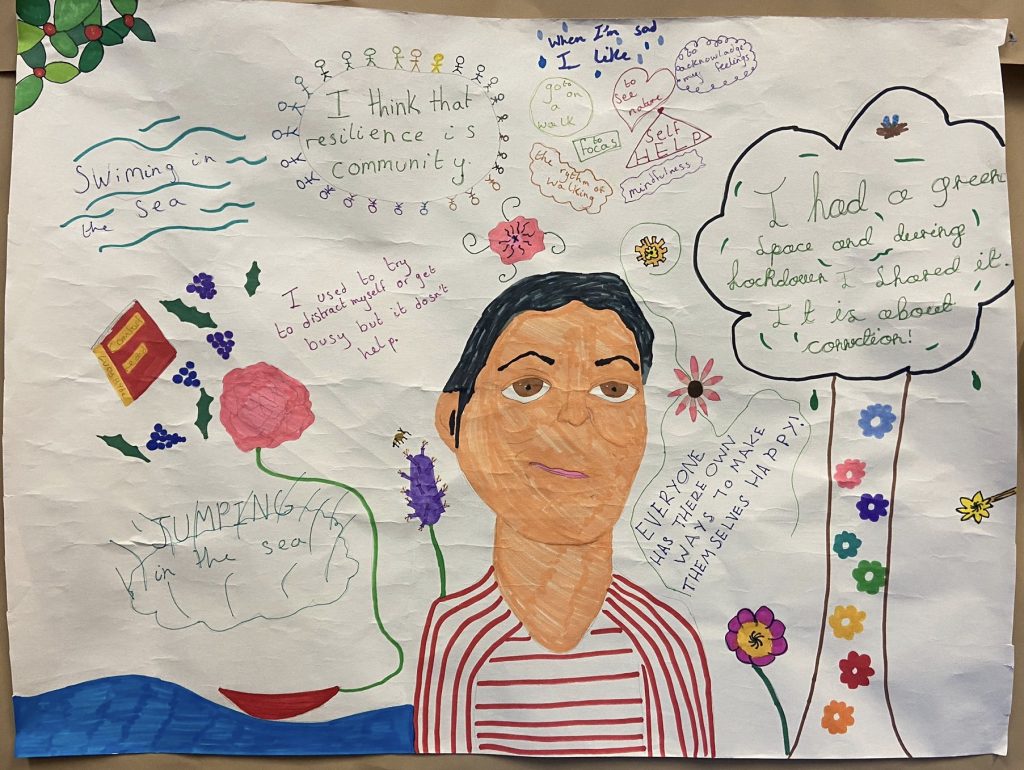 I often get pissed off when people talk about resilience – or more specifically when resilience is couched in terms that imply it's an individual's problem to solve. A classic is the client who worked in an organisation which started putting posters up around the place on 'how to be more resilient' – trying to paper over the cracks by shifting the responsibility to the individual, from the reality of an underfunded, understaffed environment where people were burning out by being asked to work at an unsustainable level.
It's a national and societal narrative, not just a job one. Resilience is a product of being physically, mentally and emotionally well and healthy. How can we expect people to be resilient if they aren't paid a living wage? How can we expect people to be resilient if it's impossible for them to secure healthcare? How can we expect people to be resilient if they are unable to afford to feed themselves with healthy, not over-processed food?
Inequality in the UK is among the worst in the 'developed' world and has got steadily more extreme in recent decades; an unequal society is not a resilient one, although it may produce individuals who look resilient because they manage to keep coping – just – even in the worst circumstances. That way those at the top of the pile get to 'admire the fortitude of the poor' while not considering the impact on the overall health of the people in question.
Long story short, I think the subject of resilience has become manipulated to help businesses and governments weasel out of their responsibilities, responsibilities required in a compassionate society that looks after the less-privileged as well as the over-privileged. Reflecting on how an individual's resilience is about more than how strong their own little island of self is, pushed me to thinking about the role of connection in how resilient we are.
I think of this in 4 layers, like concentric circles:
Connection to self
Connection to people
Connection to community
Connection to the world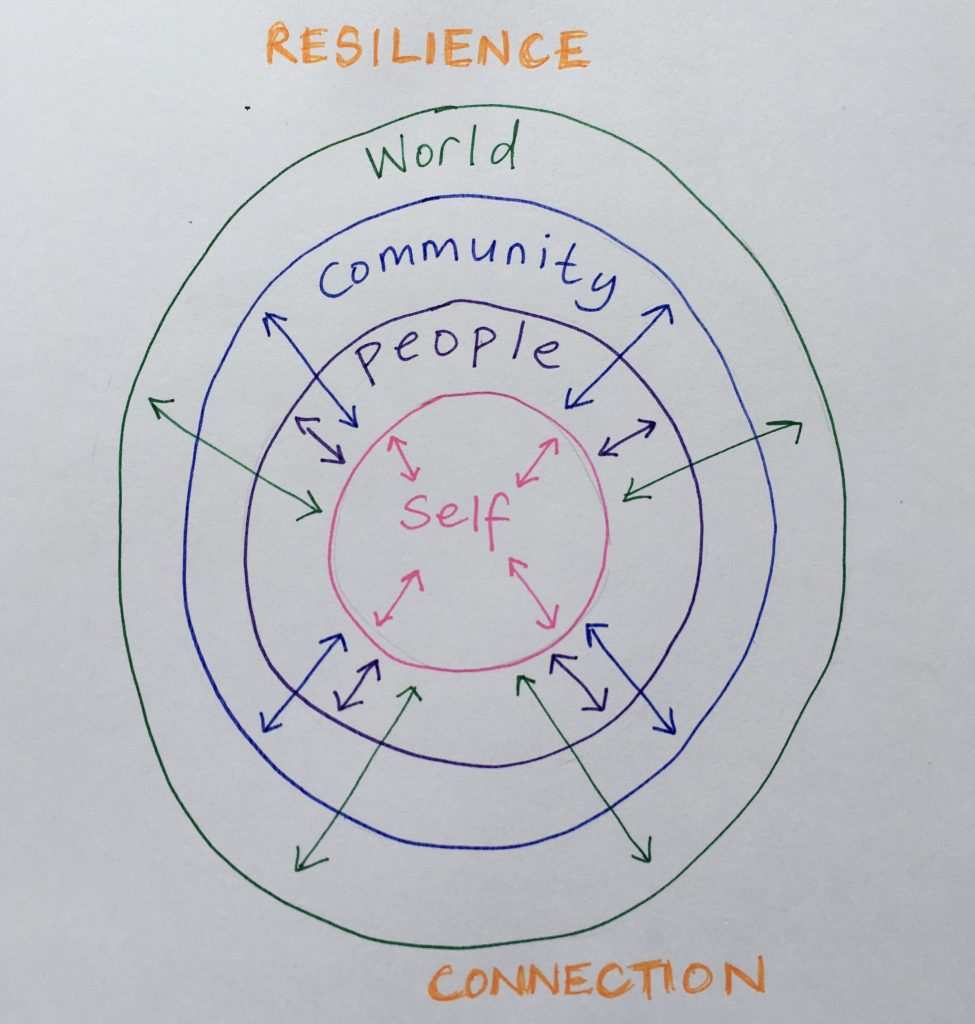 Connection to self
This is what I mentioned at the start – the ability to check in with myself on what's bothering me, and to be able to create some space for the part of me that's troubled, without making it wrong or without reacting to it. If I'm connected to myself I'm more able to respond to my needs, both physical and emotional. Improving my ability to hear those needs means that less energy is expended by the parts of me that are shouting to get my attention.
For me, that usually means making a bit of quiet time for myself to bring my attention inside. It can also take the form of an activity that I find soothing, often something physical, like gardening, cooking, or walking; these are all things that engage more of me than just my brain, and that help to keep me at least somewhat in the now because of the need to give some attention to what I'm doing.
Recently I've also gravitated towards camping somewhere away from other people where I'm forced to be with myself (I don't know how else to put it – there's something about the reality of there literally being nothing to distract me that puts me in a profound space where it's just ME in the NOW). I wrote about this experience in another blog, What I learned about myself from wild camping.
Connection to people
I think we all need to have someone there. However much you enjoy solitude, we're a social species who depend on each other for survival, and there is something about sharing our humanity with others that's important to our wellbeing. I'm not talking only about having a spouse, significant other or best friend, who we can open up to when we're in distress. Although these relationships are great, and important, we don't all find close relationships easy to maintain (often depending on our early life experiences). Also, not all relationships are healthy for us – and we might in fact need to withdraw from some relationships, particularly those where we're so drawn into taking care of the needs of others that it's harder for us to take care of ourselves.
So, other types of contact or connection with people are valuable; for example, I remember years ago when moving from a city to a village, the experience of being greeted by people I'd never met before, if we passed on a walk or in the street. A simple 'good morning' with a smile is an acknowledgement that I exist; that I have value, even in a very small way, to another human being.
Working with a counsellor comes into this category too; the opportunity to have a safe and trusting relationship with another, or to be able to say what you feel you can't say to those around you.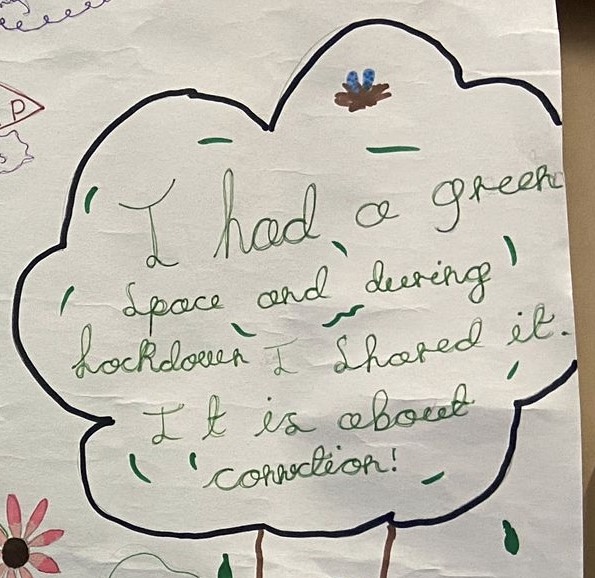 And this connection works in both directions (hence the two-way arrows in the image). We can open ourselves up to be more available to contact and connection to others. I did this semi-consciously when moving back from living abroad – glad to be back on familiar ground, I found myself wanting to smile at everyone I met without waiting for them to smile first. Often my invitation drew a smile and greeting from other strangers. Don't underestimate the power of connecting briefly to someone you may never see again – these human interactions matter.
Oh, and touch – as a friend reminded me – can be a really valuable aspect of people connection. Hugging, being held, is a visceral, whole-body experience of safety, no matter how young or old we are. (Please note: touch isn't for everyone, and some people are triggered by, or unable to tolerate, being touched. Hugging needs to be agreed by both parties, so please be respectful of others' boundaries.)
Connection to community
Again, this is about human contact, but with a slightly different nuance. I've a recent example from my own experience. I frequently feel overwhelmed and despairing about things that are bigger than me – most often, at the moment, inaction on climate change and seeming indifference to human inequality. My pattern is to believe I'm not doing enough and at the same time paralysed by the enormity of it ('what difference can I make anyway?').
I decided that one way to support myself might be to join with other people, and reached out via a local forum to ask if anyone wanted to get together to see if we could support locally-nesting swifts (whose numbers have declined in my village hugely in the last decade). A handful of people responded and we're taking this forward gradually as a group. It's not easy for me – I like doing things alone so that I have control – but I notice that sharing the burden, even in a very small activity like this, helps me feel a little bit less alone and overwhelmed. I'm part of a very small community in this; people who I didn't know previously, and whom I now know share with me this value of care for a declining species.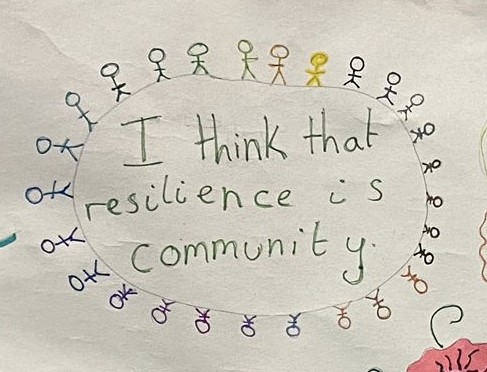 'Community' operates on various scales, and is where I think the two-way arrows really matter, and link back to the dissatisfaction I mentioned earlier with the implied responsibility of an individual for their own resilience. We are responsible for each other too – a resilient community is more than the sum of its parts.
Connection to the world
By the world, I mean the physical, natural world. Swimming in the sea has become a sort of mental health maintenance for me. It's just not possible to be doing anything other than just be in the water, aware of my physical limitations, aware of my surroundings. It's the most in-the-moment experience I know. (See my blog about it.)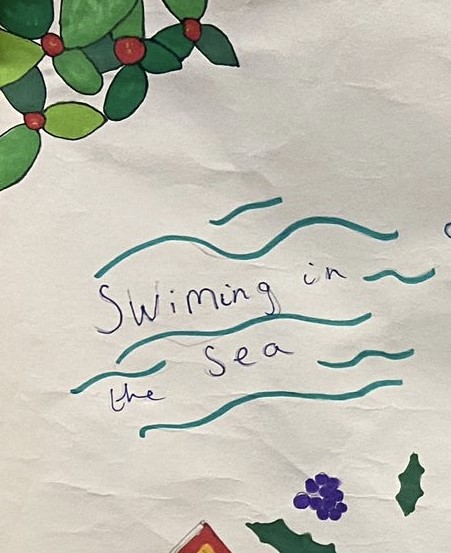 You don't necessarily have to get out into the wilderness, because I know that's not possible for everyone when they need it. But our environment is rarely so sterile that we can't find a stone, a weed, a bug, to contemplate. Doing something physical – and by physical I mean anything from walking in the woods to watching, smelling, touching flowers and creatures in your garden – is a reminder that you are a physical being in a physical world, that you are connected.
Why trying harder doesn't work
When people say to me "I just have to be more resilient so these things won't affect me" I feel sad. I'm sad because they're criticising themselves for not trying hard enough, I'm sad that they think 'being affected by things' is wrong, I'm sad that they think it's all down to them – it feels like a lonely and isolated place.
My image of resilience is a growing tree. It doesn't resist the wind and stand unmoving, it's pushed by the storm and then moves back into its original shape. Over time it becomes sturdier – often as a result of some of the wilder weather it's experienced – and it's less shaken and bent by the wind. But in order to be able to grow it needs the conditions to be right, it needs good soil for its roots to develop and hold it, it needs nourishment.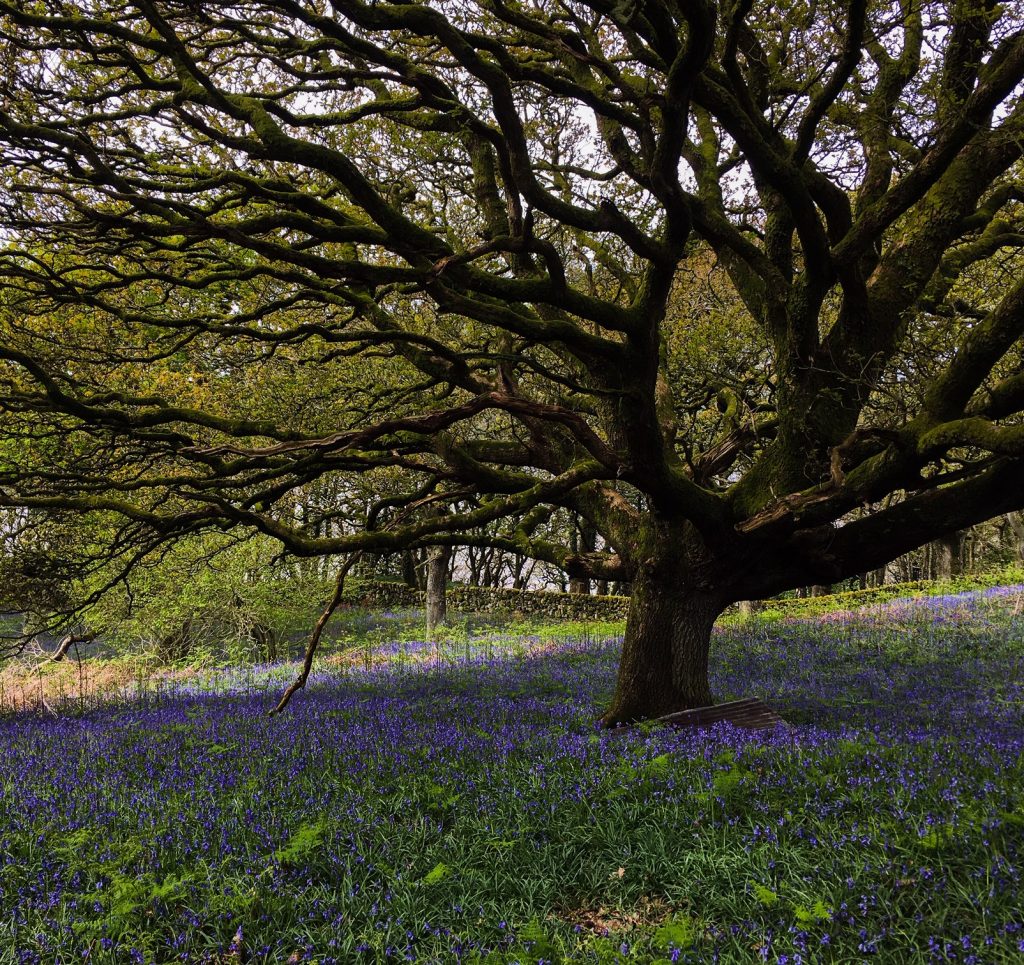 Resilience doesn't mean that I don't get overwhelmed, that I don't have a meltdown from time to time, that I don't have days where I think life is just too hard to bear. Resilience means that I have all those experiences and then I recover from them, and the better that my growing conditions are, the more quickly I recover, and the better the cuts and scrapes will heal. My roots need to tap into my inner wisdom, the nourishment of other people, the support of community and to know and feel their place in the greater world. All that feeds resilience.
A heartfelt thanks to my pal Lola, who asked the question that gave rise to this – and who made an awesome poster that says it beautifully.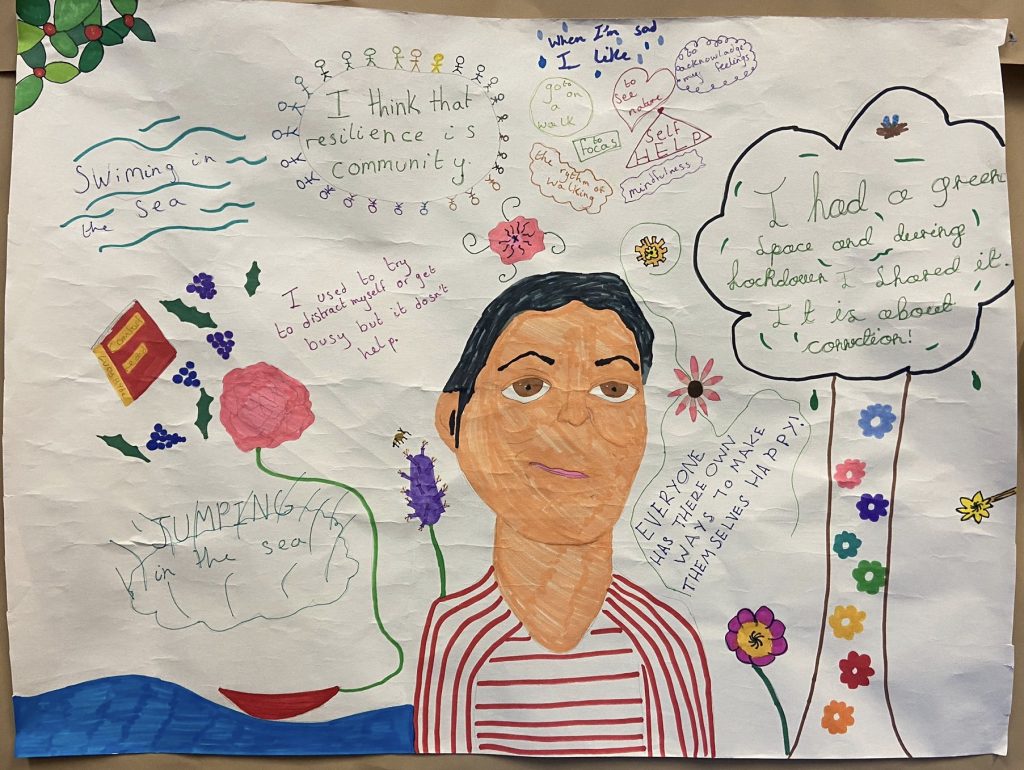 References / information
Johann Hari talks about the value of connection to mental health in his book, Lost Connections .