Do you want to see what I'm like? Meet me here.
My background
My training is one part of my 'toolkit', that helps me think and reflect on the clients that I work with. Ongoing professional and personal development helps me meet the ethical and safety aspects of therapy. But my capacity to build a relationship of trust and understanding with you comes from so many other things as well……my life experience, the many disparate, odd, lovely and messy things that make me the human being that I am.
Identifying as white, female and middle-class (my pronouns are she/her), I view myself as the stereotypical counsellor. I'm very aware that I hold privilege, not just with regard to my race or skin colour, but also from other parts of my identity and life opportunities – and that this will influence my unconscious bias and assumptions I make.  There may be parts of your identity or context that I need to educate myself about – and be honest about my ignorance of. But I want to hear your truth and to be alongside you, paying attention to our different experiences, and appreciating our shared ones. 
I have worked in various jobs, including customer service, care work and human resources, and so have a long-standing interest in relationships and communication. I have worked or volunteered in organisations of all sizes from the global financial sector to small charities. I have experienced the challenges of moving to and adjusting to different countries and lived abroad most recently from 2017 to 2019.
I am particularly interested in how we can get comfort, nourishment and nurture from the natural world and the outdoors, even in seemingly small ways.
When working with clients, I like to pay attention to the very young – and sometimes scared – child who is still there inside all of us, and to think about how we can take that small child by the hand and bring them with us, rather than pushing them away.
I strongly believe that it is never too late – change is possible.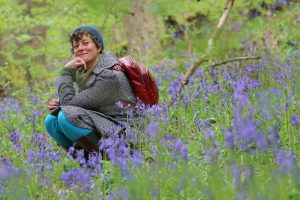 My training
My training is in Transactional Analysis (TA), which follows the following key principles:
People are OK
Everyone has the capacity to think
People decide their own destiny, and these decisions can be changed
If you want to, you can find more out about TA here , or there are videos available such as this one
I trained with Physis Training in Edinburgh, and hold a Diploma in Counselling using Transactional Analysis, accredited by COSCA (Counselling & Psychotherapy in Scotland). I have since undertaken training with Online Counselling Services & Training and hold a Diploma (Distinction) in Online Counselling Skills.
I qualified in 2022 as a Focusing Practitioner, in order to be able to teach Focusing, a self-help practice that encourages us to build better relationships with the different parts of ourselves, and to learn more from our bodies to enhance emotional, mental, and physical wellbeing. You can learn more about this in my blog.
I continue to attend training workshops and various other forms of professional and personal development. These include
• training that is directly relevant to the issues that people bring to counselling
• updates on legislation, ethical standards and best practice
• exploration of methods to help me reflect on how my own experiences and personality influence the way in which I work with you
• ways of maintaining my own health and wellbeing (including personal therapy) to ensure that I am fit to practice.
As well as keeping my skills and knowledge up to date, I like to keep connected to colleagues for learning and mutual support. From 2018 to 2021, I was on the committee of the STAA (Scottish Transactional Analysis Association), which focuses on developing the TA community in Scotland and on providing CPD and networking opportunities. I was involved with OCTIA, the Online Counselling and Therapy in Action conference, an annual event bringing therapists who work online together (both online and in person) for development, learning and networking. 
I'm a current member of the British Association for Counselling and Psychotherapy (BACP), the Association for Counselling and Therapy Online (ACTO), and the British Focusing Association (BFA).